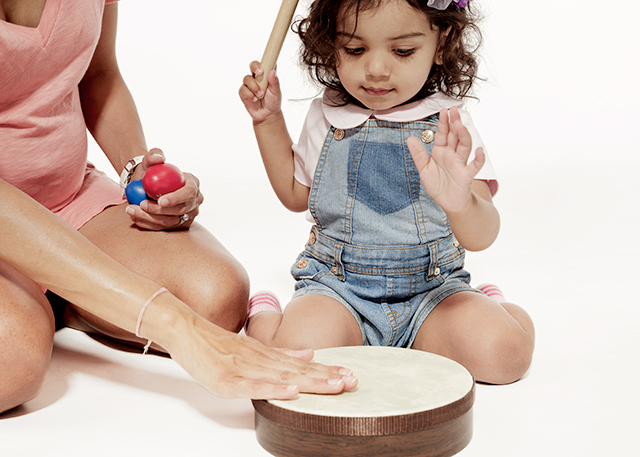 Our Approach
Music Together® believes that:
All children are musical - forget the idea of the talented/gifted "few" and the rest of us listeners.
All children can learn to sing in tune and move with accurate rhythm.  Music is absorbed from the womb, so classes can start immediately after birth (or even before!)
Children learn music (like all things they learn) through the modeling of parents and other loved caregivers.
Music learning for children happens best in a playful, musically rich environment.  A performance orientation comes later.Click above to learn more about the Music Together philosophy!
What's new?   Spring registration open until April 30.  See facebook page for more details. We will start on Zoom - with park options in person for May depending on the weather.
Meeting indoors to sing is too risky.  But clearly music still needs to be a part of our life!  Consider joining an on-line experience until the world returns to normal. Music Together and Canta y Baila Conmigo have adapted their lovely programs, combining live on-line classes that local teachers lead with additional resources and fun you can access anytime during the week! Email me @francesdurkin@gmail.com if you're interested in joining - we will be starting March 31 with new music collections.
Music Together Mixed Age Parent/Child classes will feature the collection "Triangle."
Canta y Baila Conmigo features the collection "Arroz con Leche"
Canta y Baila Conmigo es un programa único que combina la educación musical infantil con inmersión de lenguaje. Para niños de 0 a 6 años. En la próxima página, busca el horario de las clases.
Canta y Baila Conmigo is an innovative Spanish immersion music class  (kids birth-6) equally emphasizing Music AND Language/culture learning.  See next page for schedules.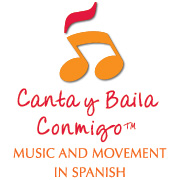 Want to teach Canta y Baila Conmigo?  Trainings are offered online!  See the link or contact us.
                     Spring Session Classes start 3/31/21                            
What is a Music Together class like?
Classes are both highly structured AND extremely flexible.
A typical Mixed Age Music Together® class is consciously planned and choreographed, with a mixture of up, down, small and large movement experiences incorporating a wide variety of musical styles, instruments, rhythms, key signatures and tonalities to give children a comprehensive exposure to music's essential building blocks.  Yet the class will veer off and adapt when any interest, curiosity or suggestion of a budding musician occurs as a way to stay true to the playful and creative process that music exploration involves.  You might say we have our "set list" but are always ready to improvise and riff on something that emerges from the children — indeed we consciously plan to encourage spontaneity and new ideas within our set structure.
Our Music Together® classes try to create the feel of a large, extended family group making music in the living room.  Some people would be singing along, others dancing and moving, others listening and tapping their feet, others might be doing other things (sewing or reading,) but very aware of the group and listening to the music.
So it will be with your children.  Some of them, because of who they are as individuals and the experiences they've had in their young lives, will sit and watch, others will move some part of their body, some will joyfully wander off, some will sit curled up in your lap, others will lay down and kick their feet, some will sing, coo, yell or very consciously decide NOT to sing.  All of this is fine, normal and part of what we expect. With time, the music enters into the child and the child  begins to respond.
With our on-line classes, all this applies, though we have found that children respond differently -- some participate more, as they are in the comfort of their own homes.  Some wander off more, as the toys of the home are present. (We encourage you to clear the area of big distractions but have some noise makers available to use during the session.)
We have found children do best when their special adult is responding actively to the music and regularly inviting (though not insisting) that they join in the fun.
With on-line classes, parents sometimes put the device out of sight of their young child but in a place that the parent can see and run the class as a "you and me" music play session, taking the cue from the teacher about how to move and play along with the song, but adapting it to their own child's needs/interests.
The main thing for musical learning is to have a regularly scheduled time to interact with the music, and to give you, the adult, concrete ideas to repeat via small musical moments throughout the week.  This class does both things with beautiful recordings in a rich variety of musical forms.
Children with Special Needs
Children with special needs are welcome in all classes.  Indeed many children with special needs find music particularly engaging and respond positively to the class' informal set up.  Let your teacher know if you have any questions or concerns.
Frances Durkin
Frances Durkin has been teaching Music Together since 2011.  She was introduced to the program by the families of her toddler students at the Shirley G. Moore Laboratory School (University of Minnesota) where she is the Creativity Coordinator.  Once she attended a training, she was "hooked!"
Originally from New York, she grew up in a family that sang a lot and she credits her parents' car singing (frequently in harmony) with instilling a deep connection with music.  She studied dance as a young person and believes that music and movement are two inseparable siblings! She participated in musical theater in high school and college and continues to dabble in community theater locally.  She studied voice and music theory in college, though graduated with a degree in Latin American Studies.
With a Masters of Education in Early Childhood, Frances has worked at the University of Minnesota's Early childhood program as a teacher, a mentor to student teachers and a University instructor.  Her work with children and families is grounded in a strong understanding of the many things children need to learn.
Frances loves Latin, Celtic and Klezmer music though would be hard pressed to name a genre of music she doesn't like.  She runs relaxed, informal style classes occasionally infusing yoga moves and other body silliness into her lesson plans.  In her words:
"Music is essentially another language.  And we learn language NOT by being specifically TAUGHT it, but by being immersed in it.  Later it emerges because we think it is important.  It looks important because the adults around us engage in it.  So don't worry if your child doesn't seem to care about a particular activity, simply stares at me, is more interested in something else in the room, etc.  Please believe that with time, they will absorb plenty and before too long we will see the signs of this.  If you focus on your own enjoyment of the music and your response to it, your child will eventually be much more likely to participate as well."
---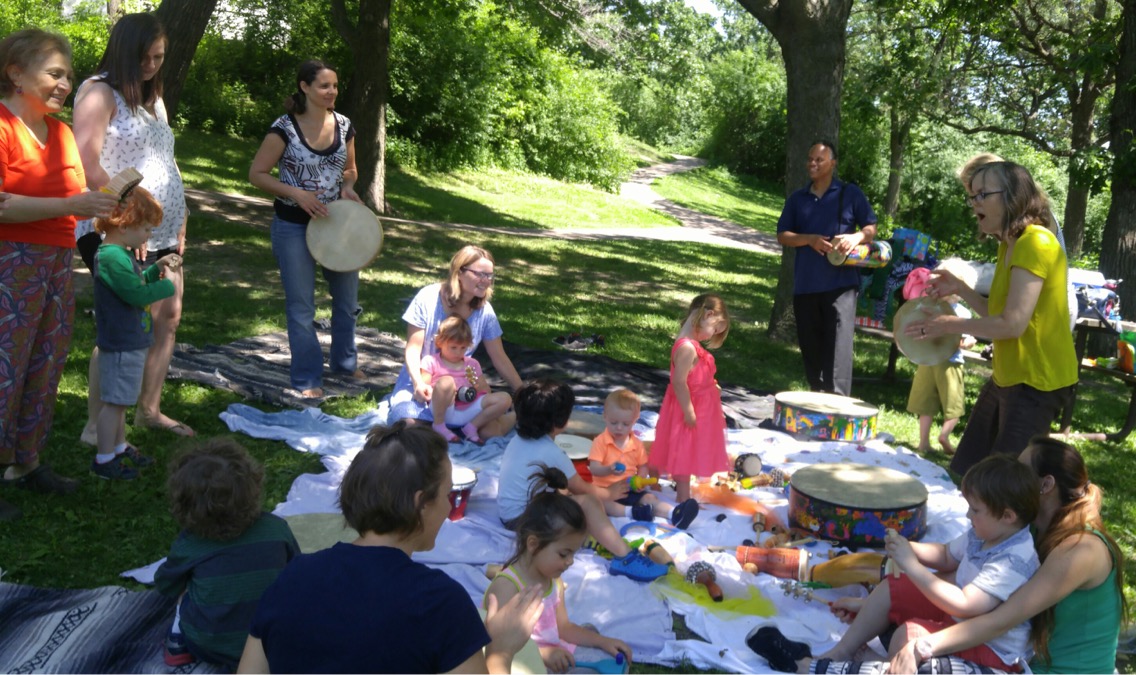 Try a Free Demo Class
Making music together is powerful!
Come and share a free class with us.  It's easy to try out our classes from your home for spring session, contact Frances at francesdurkin@gmail.com for a link to our on-line classes.  You can attend for free before deciding whether to purchase the music and other online activities. All live interactive classes will meet at our usual days and times, listed below:
Family Music Classes (birth - 5 yrs) Thursday Mar 3 10:00 - 10:45am
Rhythm Kids 2 (K - 3rd grade) Monday 4:30pm - 5:15pm (Sorry, no Rhythm Kids for Spring 2021)
Canta y Baila Conmigo® (Birth - 6 years - Spanish immersion through Music) Wednesday April 1 10:30 - 11:15am
All classes at Prospect Park location: (at least in normal times - for spring 2021, we will be operating on line in April and at Prospect Park Water Tower Park - weather permitting in May)
Let us know you want to try out a class by sending an email to: francesdurkin@gmail.
If there is room, classes may be started through April 30 (on a pro-rated basis.)  You may always attend the first class free to see if the music and schedule fit with your family.
Copyright 2017 Purple Crayon Lab Music Together. All rights reserved. 
Music Together art & logo design © 1992-2017 Music Together LLC. Music Together is a registered trademark. Purple Crayon Lab is licensed by Music Together LLC. For more locations: www.musictogether.com

Contact Us